We are absolutely delighted that the Fitzherbert Community Hub has inspired the latest work from Brighton street art legend Sinna One.
Sinna One is a Brighton based artist and muralist whose work focuses on exploring spray paint as the primary medium. This manifests itself in the form of artworks depicting animals, robots, portraits, dragons, favourite cartoon characters and is influenced heavily by music, comics, sci-fi and graffiti culture. His work can be seen on walls, in galleries, at festivals in books and most recently on telephone connection boxes across the City.
Sinna One transformed the box on the corner of Upper Bedford Street, adjacent to the Fitzherbert Community Hub. It incorporates the hub logo and colour scheme as well as a flavour of 'food, friendship and fun' which is what the hub aims to provide its community. The box had become an eyesore and was covered in tags. It is now an asset to the area and has already been visited by thousands of street art fans.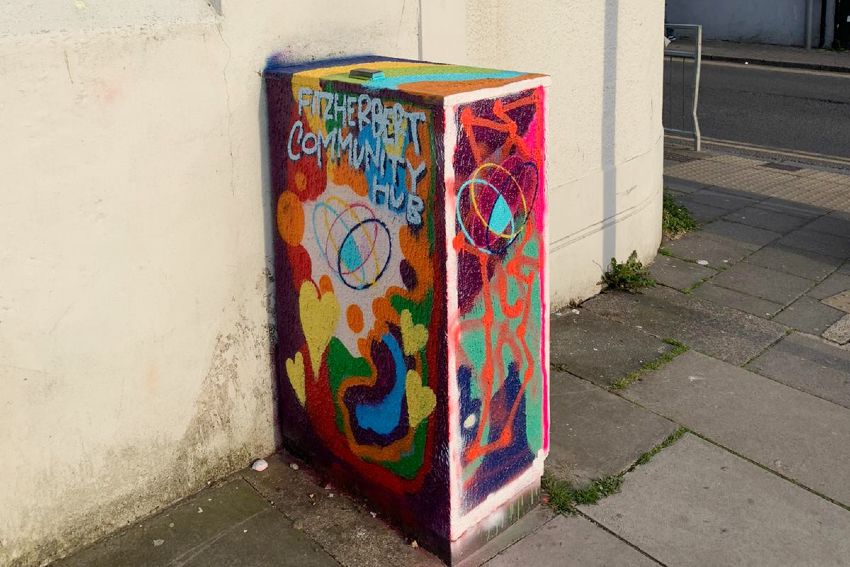 Sinna One is passionate about involving the community in his art projects and on this occasion he worked with young members of Brighton Table Tennis Club to create a freestyle design by allowing the young people the freedom to work with spray paint and colour patterworks to transform the box. He said:
"It was a great pleasure to work with FCH on this project and for the young people from BTTC to have a chance to create spray-painted artwork in their community as a way of covering up tags and beautifying their local area. It helps to give them a sense of pride in their surroundings.

I do regular work with youth and communities around Brighton to help brighten up drab and tatty walls and spaces. The council doesn't always tend to support mural projects so it is good when the communities take ownership of this and arrange it themselves."
If you are interested in finding out more about Sinna One and his artwork visit his Instagram page @sinnaone